Recipe
Double Rye Treacle Tart
Words & Photography by

Sophia Real
Born and raised in Germany, I moved to Brighton to attend boarding school when I was 16. I later moved to London for university, law school and, eventually, work. The UK is where I became an adult, and although I no longer live there, it still very much feels like home. Despite its rather questionable reputation abroad, having spent over a third of my life in the UK, I have grown rather fond of British food.
I miss Sunday roasts with Yorkshire puddings, eccles cakes from St John's bakery, sausages and mash, homemade apple crumble with warm custard poured on top and stick-to-your-teeth treacle tart.
There is a fine line between adapting a recipe and re-inventing something else entirely and I freely admit to rolling my eyes when reading other people's recipes with a twist on the sweet treats I grew up with in Germany. Yet at the same time I have no qualms about reinventing British classics. Maybe it helps that I never had an English auntie or granny who taught me their way (and quite possibly the only way) of making scones, chelsea buns or sticky toffee pudding. I am therefore well aware that treacle tart aficionados may well recoil in horror at what I have done to their childhood favourite. But bear with me – a few simple changes to the classic recipe is enough to produce a grown-up version that is still as tooth-achingly sweet and delicious as the original treacle tart.
In my version of this long-term favourite of British children and adults alike, a dark cardamom and sea salt-flecked rye pastry encases a sweet filling of coarsely ground rye bread stirred into gently warmed acacia honey and finished with a sprinkle of sea salt. Paired with something tart to cut through the sweetness, like mascarpone, creme fraiche or even cream cheese, loosened with a squeeze of lemon juice and flavoured with a generous grating of lemon zest, the humble treacle tart becomes a rustic but elegant dessert, fit even for a dinner party.
Note: these individual treacle tartlets are made with rye flour and are filled with rye breadcrumbs. Rye always makes me think of Scandinavia so the pastry includes a generous pinch of freshly ground cardamom as well. And while I am particularly fond of this rye bread version of the filling, there is nothing that says you could not use a slice or two of your favourite country loaf for the filling. The important thing is to pair the treacle tarts with something that will cut through the filling's almost tooth-aching sweetness. A lemon scented cream works well, only lightly sweetened, if at all. A scoop of lemon curd or greek yoghurt ice cream would work too.
Ingredients
For the treacle tarts
For the pastry
75g all purpose flour
50g rye flour
A generous pinch of salt
Seeds of 2 cardamom pods, finely ground
75g cold butter, diced
1 egg yolk
1-2 teaspoons water
For the filling
75g rye bread, chopped finely
150g honey
A generous pinch of sea salt
For the whipped cream cheese with lemon
200g full-fat cream cheese
Juice and zest of 1/2 lemon
A pinch of salt
Optional: 1 tsp honey
Method
Start by making the pastry. In a bowl whisk together the all purpose flour, rye flour, salt and ground cardamom. Form a well in the middle and add the butter and egg yolk. Using a knife or a pastry cutter, cut the the butter into the flour until the mixture resembles sand. Using your hands quickly bring everything together – if the mixture appears crumbly and dry, add 1-2 teaspoons of cold water. Shape into a ball, wrap in cling film and place in the fridge for 30 minutes.
Pre-heat the oven to 200 degrees Celsius.
On a floured surface roll out the dough to approx. 3mm thickness and line each tartlet pan with a round of dough slightly larger than the size of the pan. Cut off any excess pastry with a sharp knife. Prick the pastry with a fork a few times. Place tartlets pans in the fridge while you prepare the filling.
In a small saucepan, gently warm the honey until liquid. Stir in the breadcrumbs and the salt.
Remove the tartlet pans from the fridge and divide the filling evenly between them.
Bake tartlets for approx. 15-20 minutes until the pastry is golden and crisp. Whilst in the oven the filling will bubble up ferociously, but it will eventually settle back down again.
Meanwhile, whisk together the cream cheese with the lemon juice, lemon zest and pinch of salt, adding a teaspoon of honey if you like. Store covered in the fridge until ready to use.
Serve each treacle tartlet with a tablespoon of the lemon cream cheese.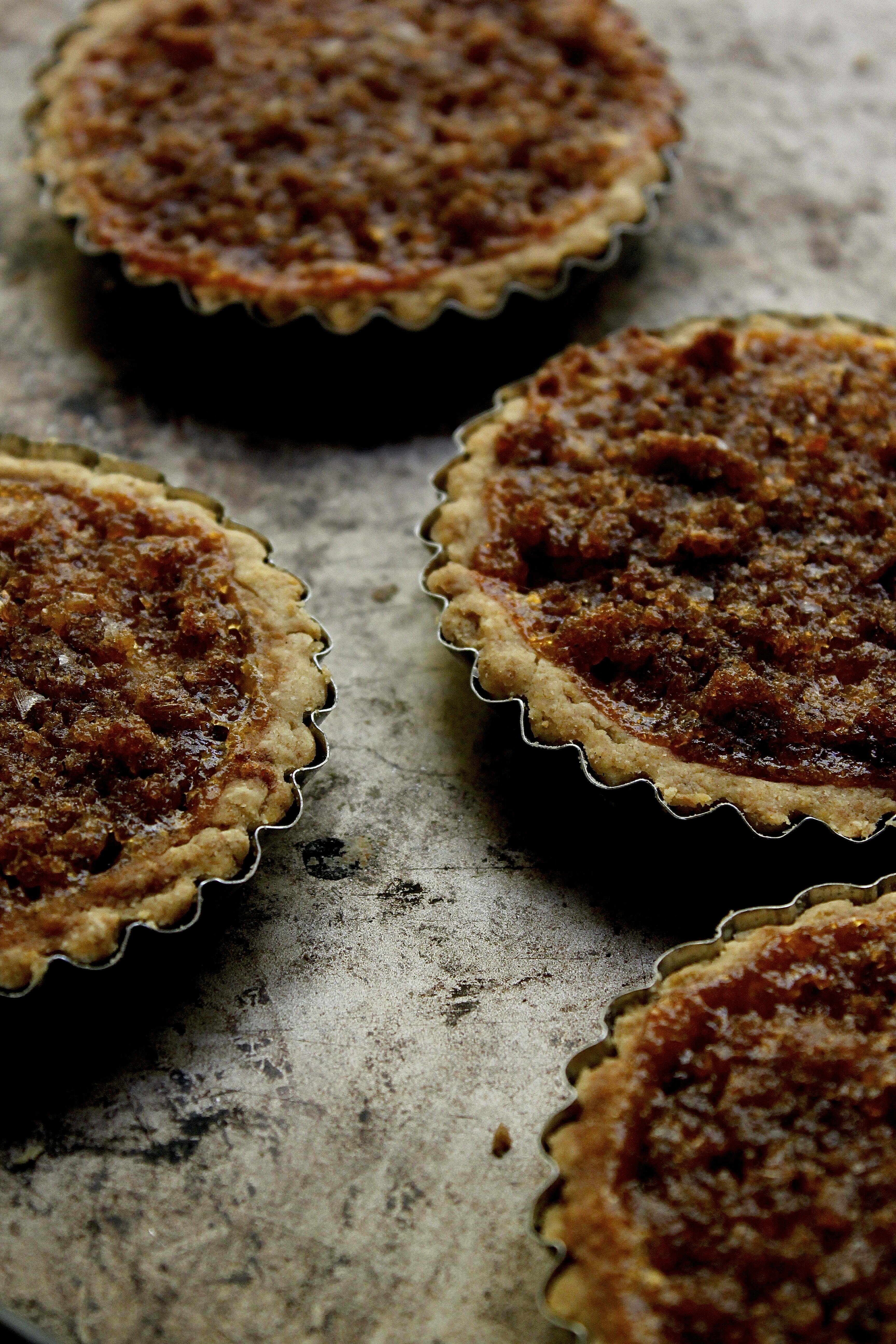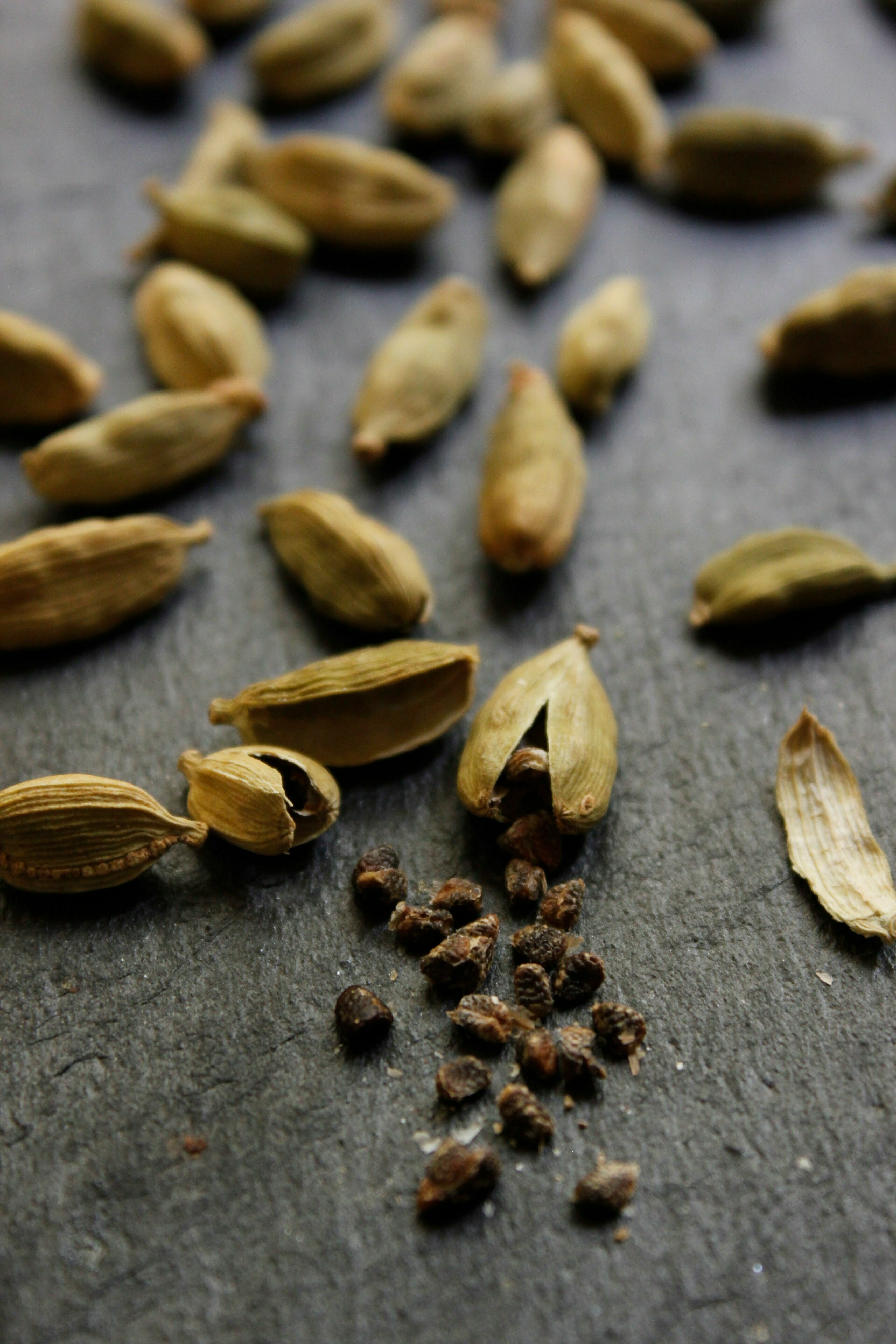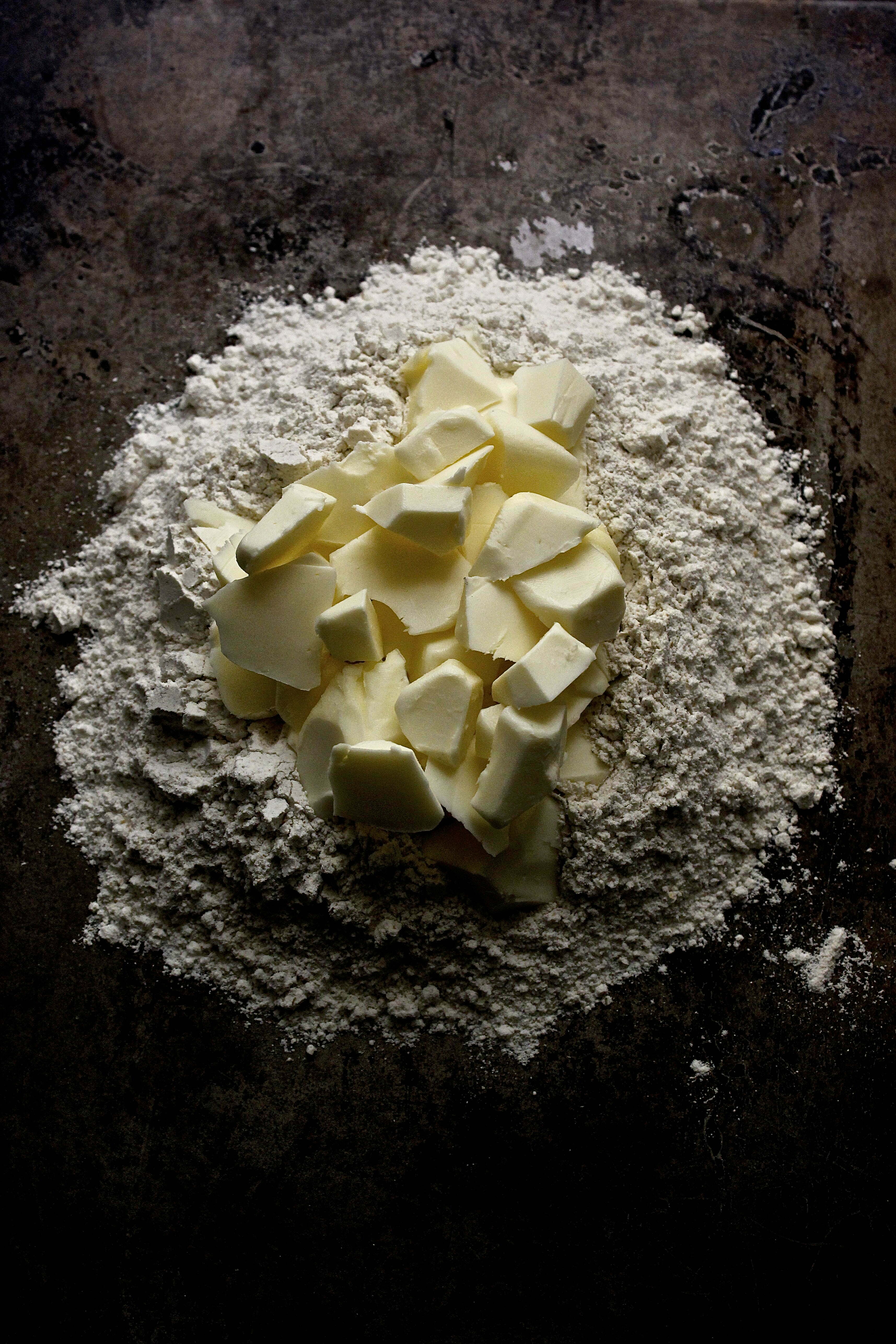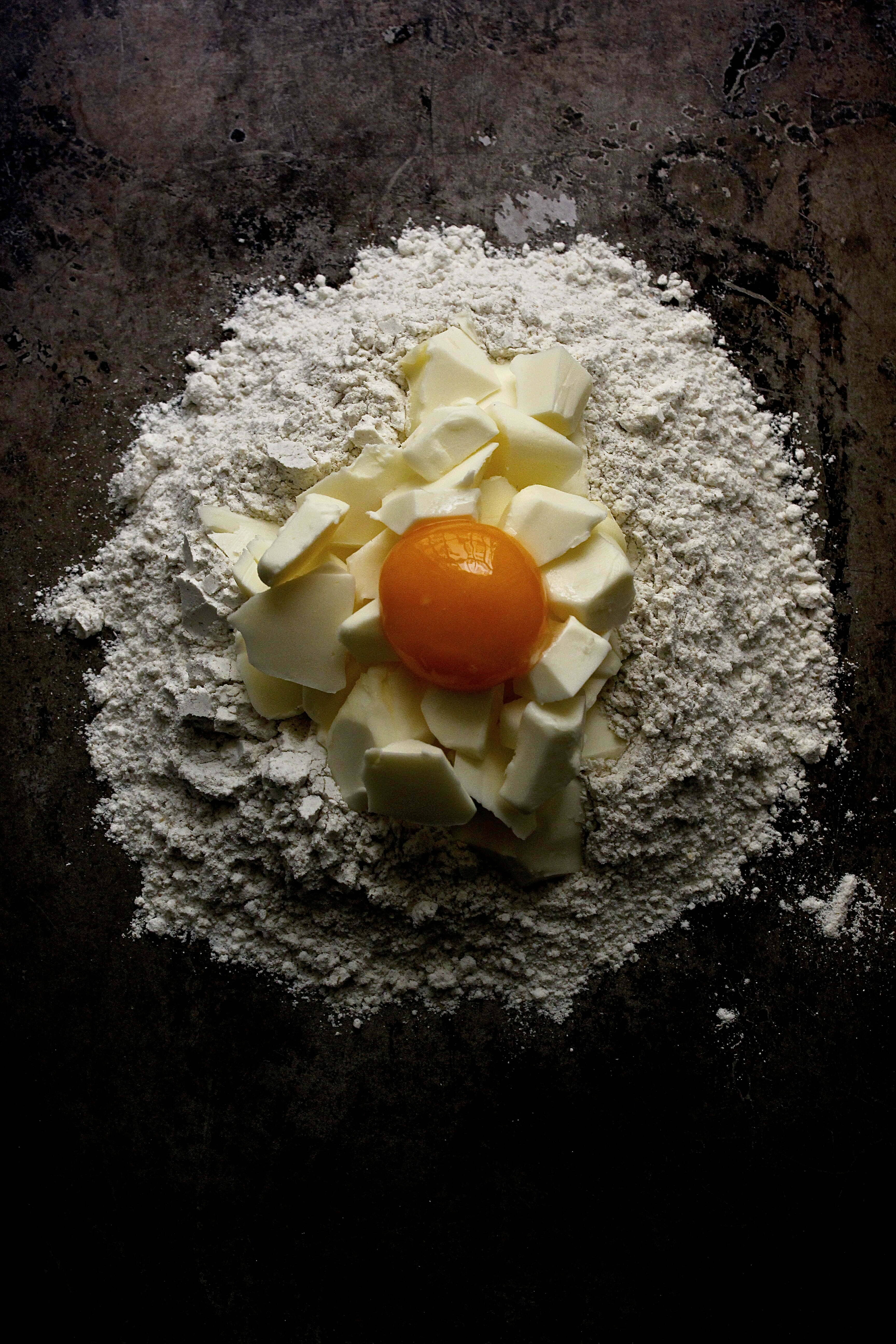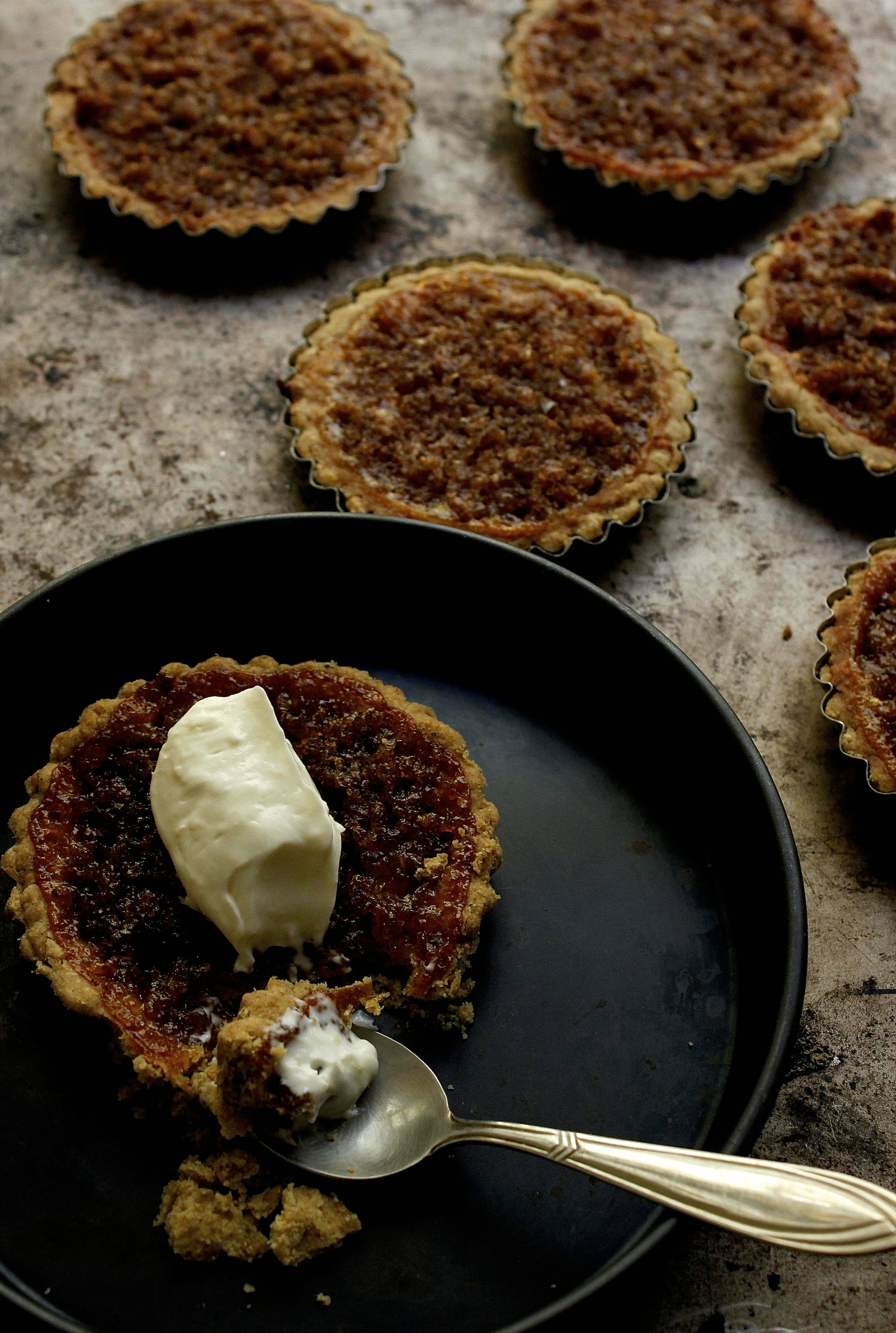 Double Rye Treacle Tart was created by Food&_ community member: