Recipe
Food Memories: Curabiè – Italian Shortcrust Biscuits
Words & Photography by

Giulia Mulè
Every family has a set of favourite recipes that are passed on from one generation to the next. Dishes you love exactly the way your mum used to make them and which you long for when you grow up. Tastes and aromas that can instantly bring back happy memories.
My family culinary traditions come from the Italian region of Friuli Venezia-Giulia and the city of Trieste where my mum was born and my grand-mother lives. Apart from my mum's battered but beautiful recipe book, which is covered with hand-written notes and food stains, most of our recipes are handed down verbally. Even the ones that are written down aren't always very detailed. My mum and my grandma don't need a recipe after all, as they know exactly how to prepare most dishes by heart. Or they simply improvise: adding a bit of this and a bit of that, until they get the right mix.
Despite having left Italy years ago (or perhaps, because of it) I have now decided to embrace my culinary traditions and learn my family recipes by baking with my mum and grandma and learning first-hand from them. During my last visit to Trieste my mum and I made Curabiè, half-moon biscuits made with shortcrust pastry (similar to Austrian Vanille Kipferl and Greek Kourabiedes).
They are simple biscuits to make but the key is preparing the perfect shortcrust pastry, for which you will need to apply the "a bit of this and that" method. Some days you will need to add more flour, other days the dough will call for more butter. Practice this recipe a few times for the best results.
Ingredients
400g plain flour
250g butter, cold
150g caster sugar
1 egg and 1 egg yolk
15g baking powder
pinch of salt
120g hazelnuts, finely chopped, not ground
icing sugar, to dust
Method
In a bowl, shape the flour into a well, place the pieces of cold butter in the centre, with the sugar on top. Knead the butter and sugar first, then slowly add the flour into the mix.
Keep kneading, then add the eggs, baking powder and pinch of salt. Slowly add the hazelnuts and keep kneading. Once you have a ball of smooth pastry, place it in the fridge to cool for one hour or until it is cold and hard.
Pre-heat the oven to 180ºC. Cut out a small piece of pastry from the fridge (keep the rest inside) roll it into a cylinder and cut it into small pieces. With your hands take out small balls and create crescent shapes.
Place them on a baking tray lined with parchment paper and bake for about 8-10 minutes. The biscuits should not be brown, so be careful not to over-cook them. Leave in the tray to cool down for a few minutes before transferring onto a plate (they will crumble if you move them when hot). Repeat until you have used all the pastry.
Dust the biscuits with icing sugar.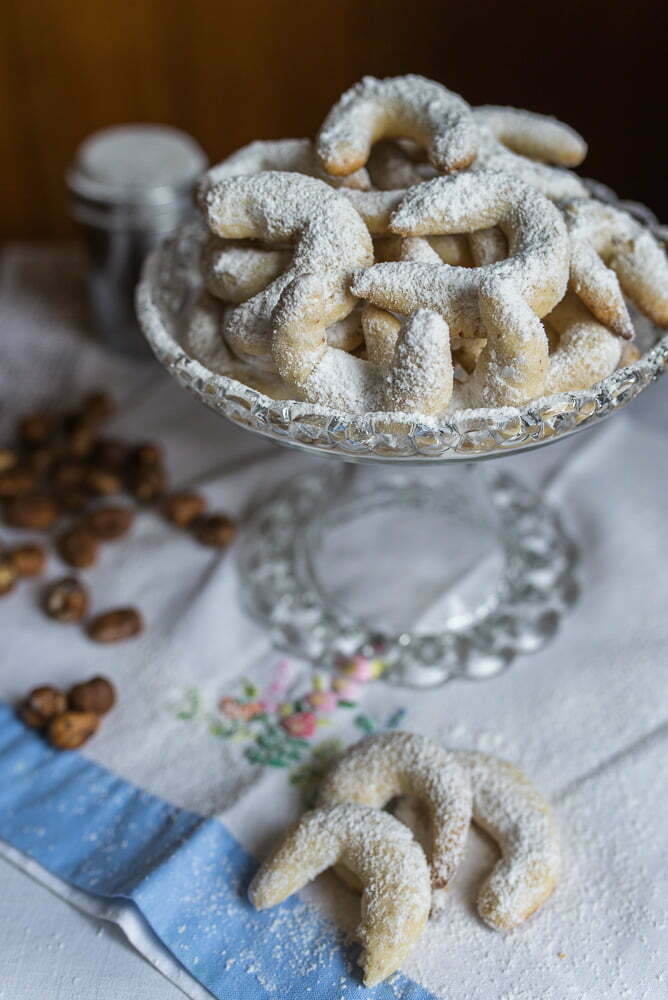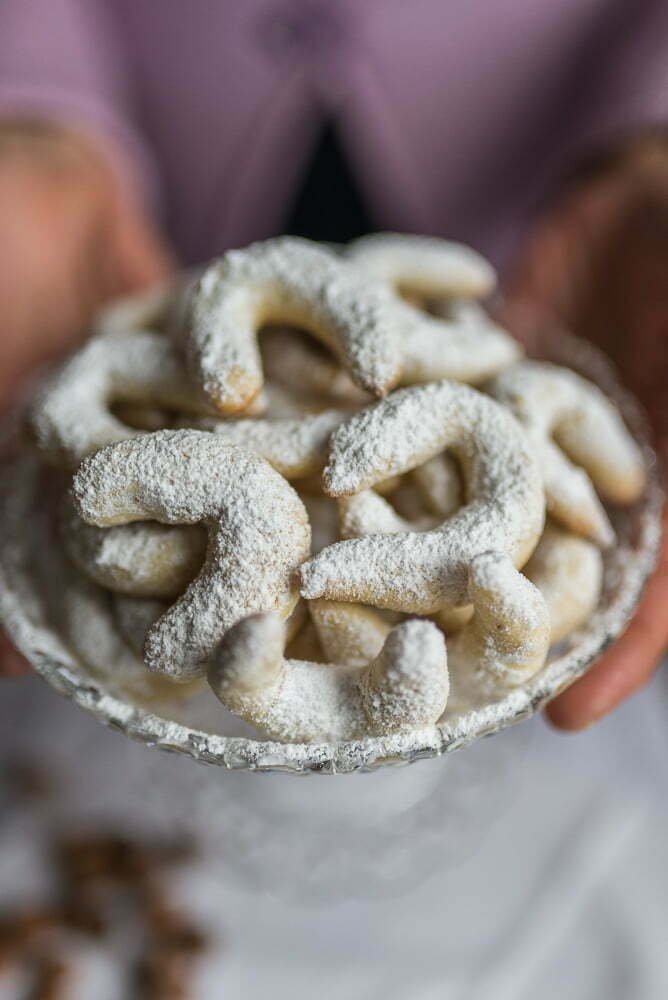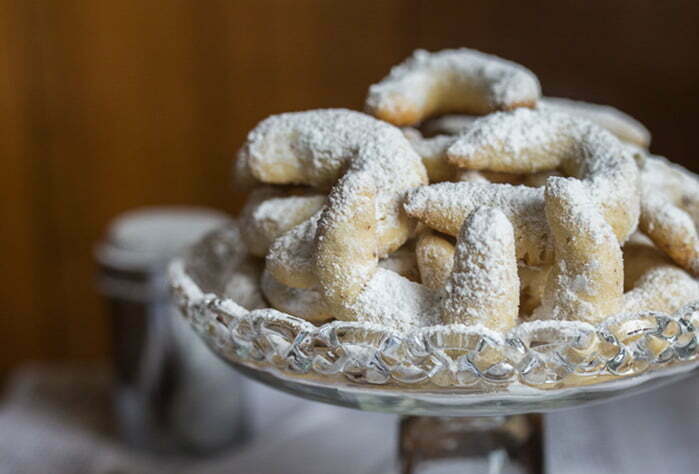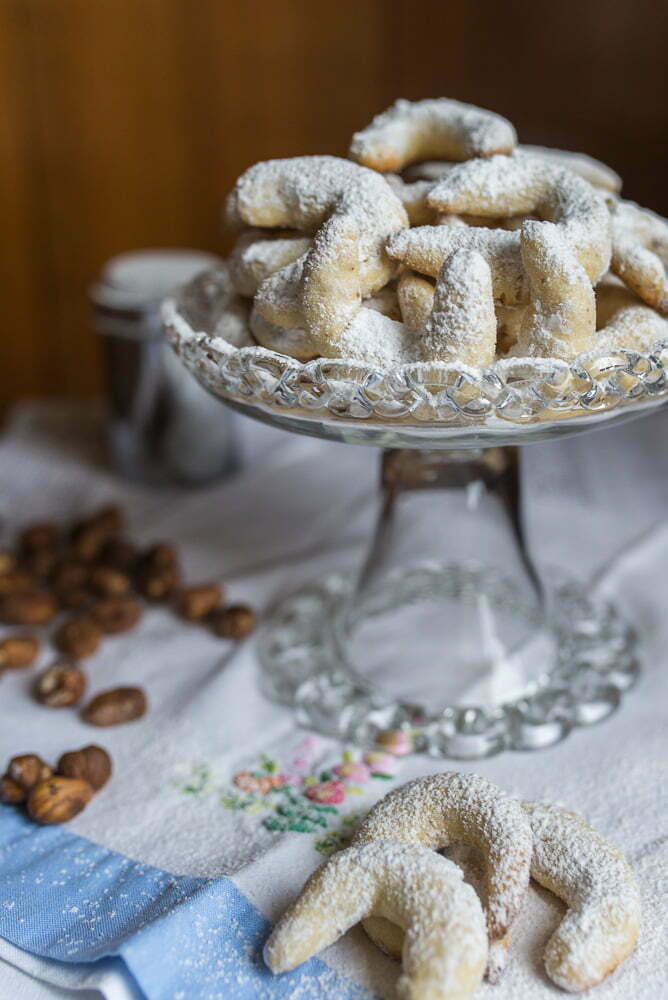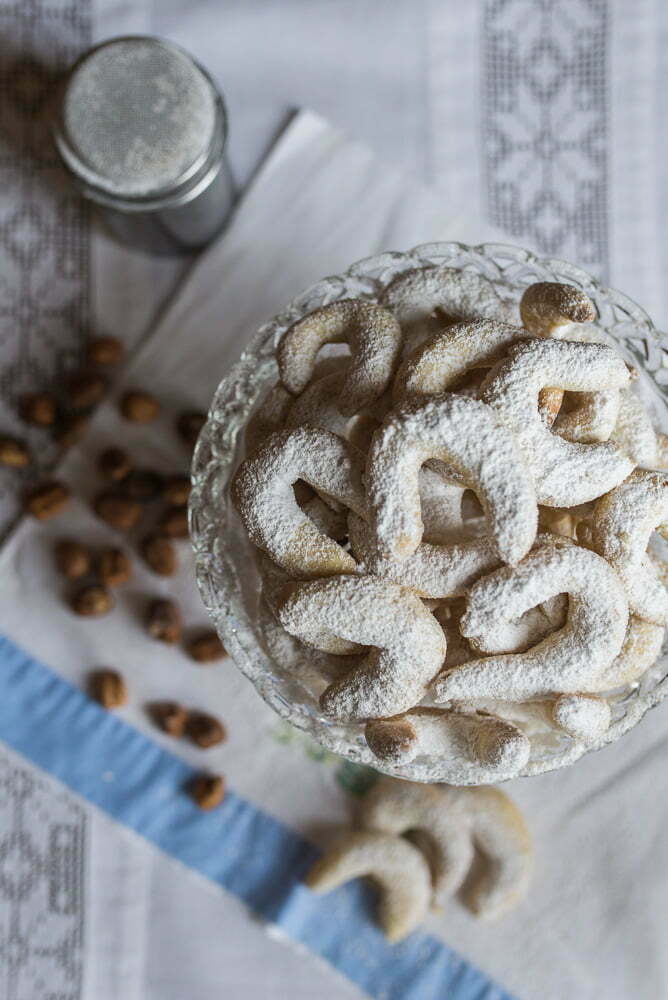 Food Memories: Curabiè – Italian Shortcrust Biscuits was created by Food&_ community member: