Recipe
Sweet Potato Hotcakes with Cashew Cream, Maple Bananas and Coconut Bacon
Words & Photography

Lisa Brooke
In a word: luscious. That pretty much sums it up. So decadent I feel as though someone else should feed it to me as I recline on a gold piped chaise longue. Honestly. I was trying to figure out what to say at the beginning of this recipe (which is actually a few recipes in one) but there is just too much to cover. The hot cakes alone will send you both into a state of reverence and guilt. Go and confess your foodie sins, then come back and eat some more.
It isn't often I'm speechless – so take this as a sign. A very, very good sign.
Egg free pancakes are made light and fluffy here with the addition of flaxseeds for binding and banana for moisture and rise.
(adapted from one of my favourite ladies, jessicacox.com.au)
Ingredients
Sweet Potato Hot Cakes:
1 cup steamed sweet potato, mashed
2 tablespoons grape seed oil
1 tablespoon lemon juice
1 teaspoon maple syrup
2 tablespoons freshly ground flaxseeds and 6 tablespoons water
1 cup ground oats
1/2 teaspoon baking soda
1/2 teaspoon salt
1/2 teaspoon cinnamon
Maple glazed bananas:
1 banana, sliced lengthways in half
1 teaspoon maple syrup
Vanilla Cashew Cream:
1 cup raw cashew nuts
1/4 cup water, depending on the consistency you like
1/2 teaspoon vanilla bean paste
Coconut Bacon:
(makes 3 1/2 cups)
3 1/2 cups coconut flakes
2 tablespoons maple syrup
2 tablespoons soy sauce
1 teaspoon black pepper
1 tablespoon vegetarian Worcestershire
1 tablespoon sesame oil
1 tablespoon liquid smoke
Method
Preheat your oven to 180 degrees c. Place the coconut flakes into a large mixing bowl and add the maple syrup, soy sauce, pepper, worcestershire, sesame oil and liquid smoke (if you have a smoker, you can smoke the coconut flakes for four minutes using grill-top method, before adding to the mixing bowl. If you do this, leave out the liquid smoke). Toss to coat.
Spread the dressed coconut into a single thin layer on a parchment-lined baking tray.
Cook coconut for ten minutes, stir it around and spread it back out on the tray, and cook it for another five minutes or until coconut is nicely browned – dark, but not black. Set aside to use later.
Meanwhile, in a small bowl combine the flaxseed meal and water and allow to sit for 10 minutes until the meal begins to absorb the water. In the meantime mix together the sweet potato, grape seed oil, lemon juice and maple syrup.
In a separate bowl, whisk together the ground oats or oat bran, baking soda, salt and cinnamon. Make a well in the centre of the dry ingredients and pour in the wet ingredients. Add the flaxseed mix and stir till just combined. Allow the batter to sit for 5 minutes or so. After this time you can add more liquid if you feel it is necessary.
Whilst the batter is resting, place all of your cashew cream ingredients in a high speed blender and blitz till smooth and creamy. Add extra water if necessary.
After your batter has sat for 5 minutes, heat a frying pan to a medium heat and add a small amount of grape seed oil. Add small ladle fulls of batter to the pan – approximately 3 tablespoons worth. Let the hot cakes cook for about 2-3 minutes until bubbles begin to form, then flip over.
When nearing the end of your batter, prepare the maple bananas. In a separate smaller pan, place the banana and maple syrup and cook on a moderate heat until brown and bubbling.
Once the pancakes are cooked through remove from the pan and keep warm till ready to serve.
Top with the maple bananas, cashew cream and a sprinkle of Coconut Bacon.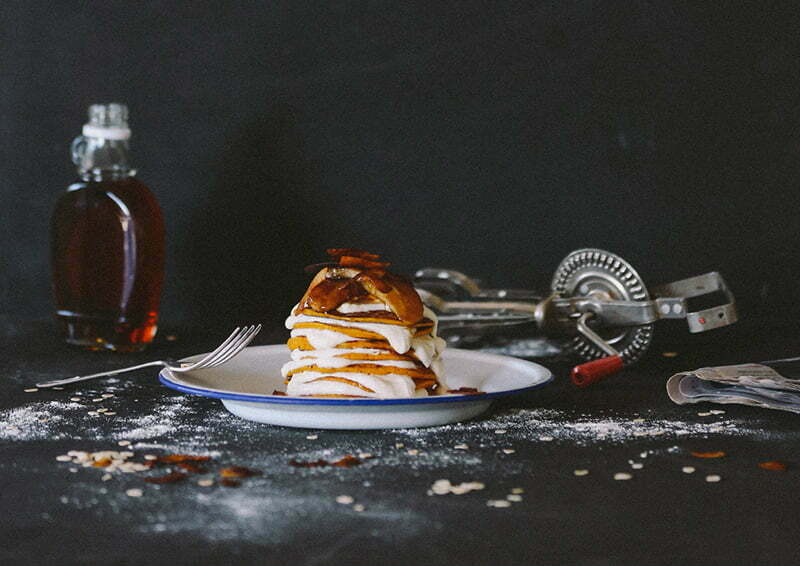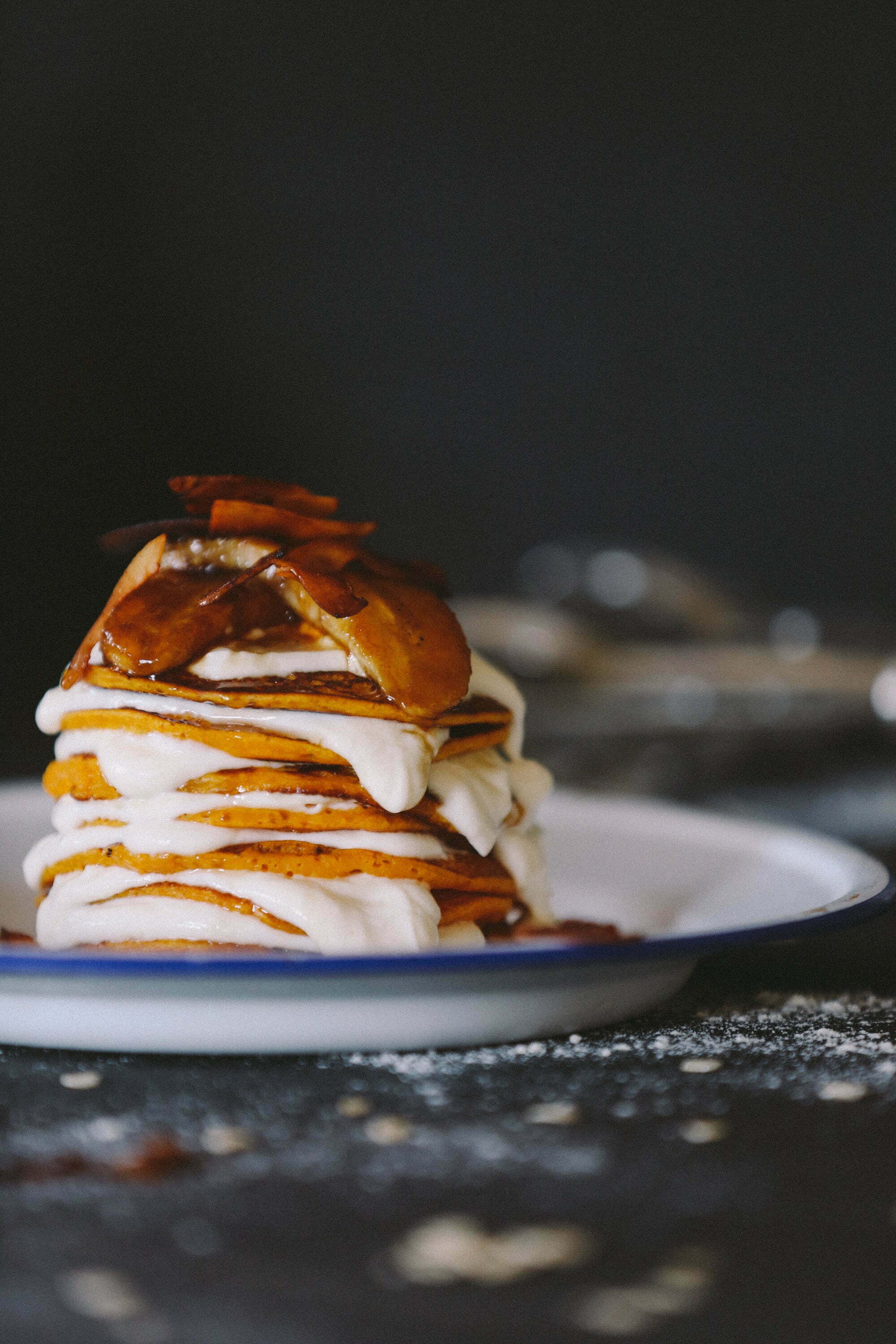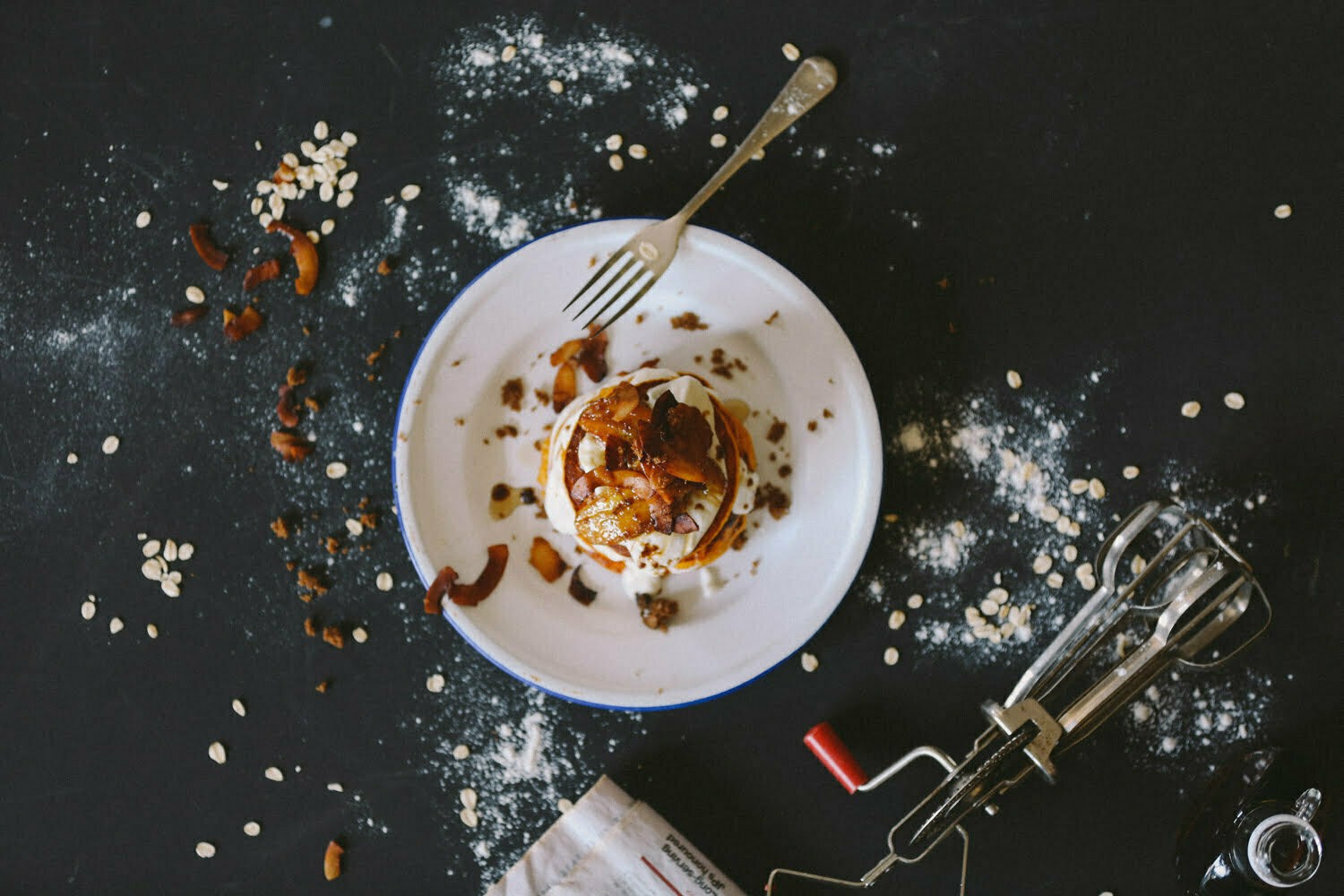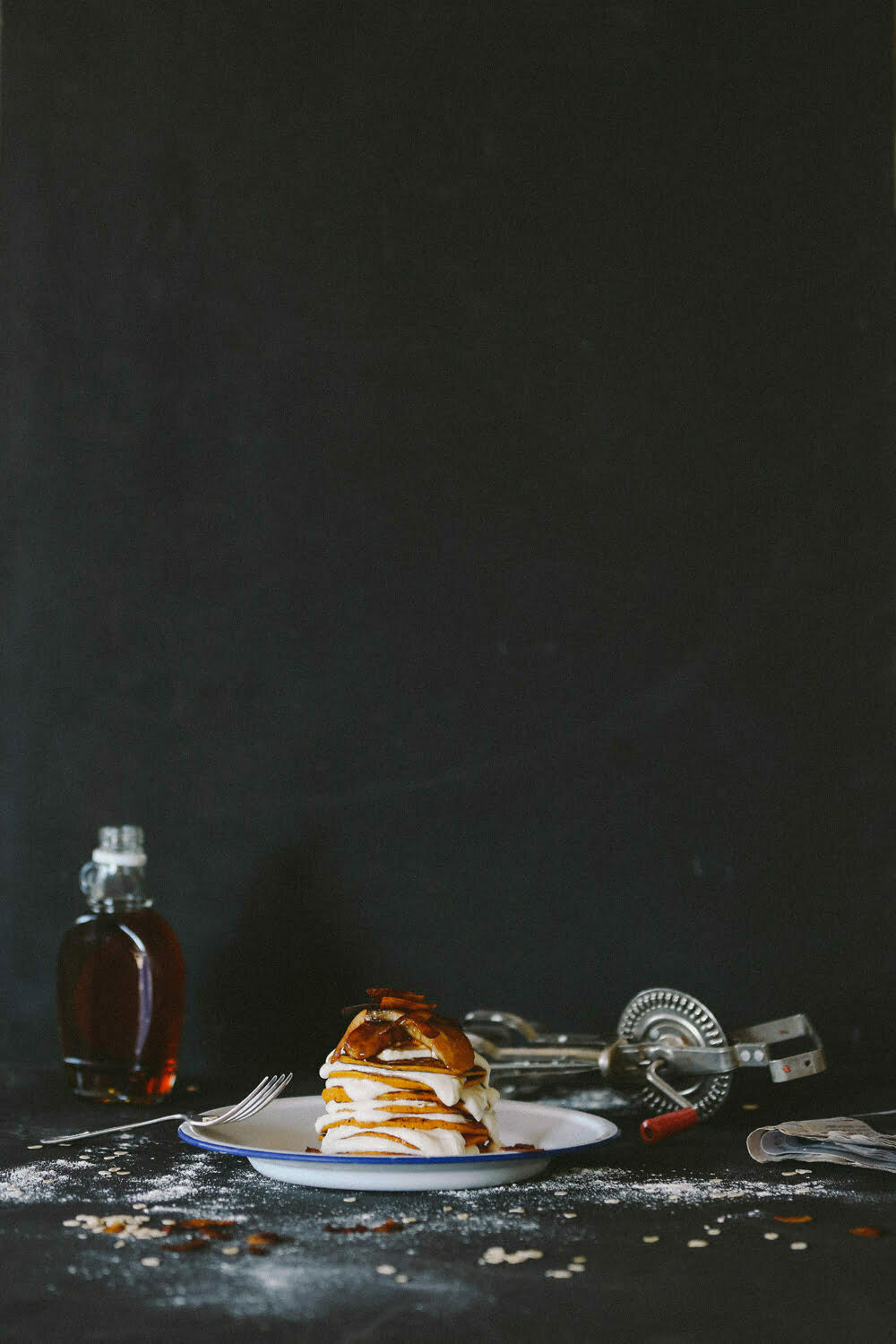 Sweet Potato Hotcakes with Cashew Cream, Maple Bananas and Coconut Bacon was created by Food&_ community member: