Recipe
Ham & Friends Festive Cheese Board
Photography & Styling

Katy Lanceley
Ingredients
Lincolnshire Poacher
Etivaz
Young buck
Vacherin
Dorstone
Rollright
Method
Lincolnshire Poacher
Hard unpasteurised cow's milk cheese with an earthy strong Cheddar style.
Pair with – Chateau Fleur Haut G sens, Bordeaux, France
Earthy Cheddar style cheeses cry out for dry, tannic reds and this claret is the perfect foil for the rich protein in the cheese.
Etivaz
Hard mountain cheese from Switzerland similar to gruyere.
Pair with – Enate Barrel Fermented Chardonnay, Somontano Spain
Smooth nutty cheese pairs beautifully with a smooth nutty Chardonnay. the perfect complement.
Young buck
Unpasteurised blue Stilton style, from an up and coming young northern Irish cheese maker.
Pair with – Niepoort LBV Port, Oporto Portugal
Strong, salty blue cheese with rich, sweet Port is a match made in heaven. A timeless classic.
Vacherin
A soft, rich, winter cheese made from cow's milk. This is a French Christmas essential.
Pair with – Cremant De Jura Chardonnay, Jura France
Rich, toasty fizz works perfectly with Vacherin, especially when melted into a fondue.
Dorstone
One of Britain's most outstanding goats' milk cheeses.
Pair with – Corofin Sauvignon Blanc, Marlborough New Zealand
The acidity in the wine cuts through the richness of the cheese and in turn lifts its own fruit character to even greater heights.
Rollright
A mellow, buttery, washed-rind cheese similar to Reblochon.
Pair with – Bruno Lupin Rousette De Savoie, Savoie France
They say match the wine from the place, to the food from the place. is Reblochon style cheese is perfect with Rousette grown in the crisp Alpine air.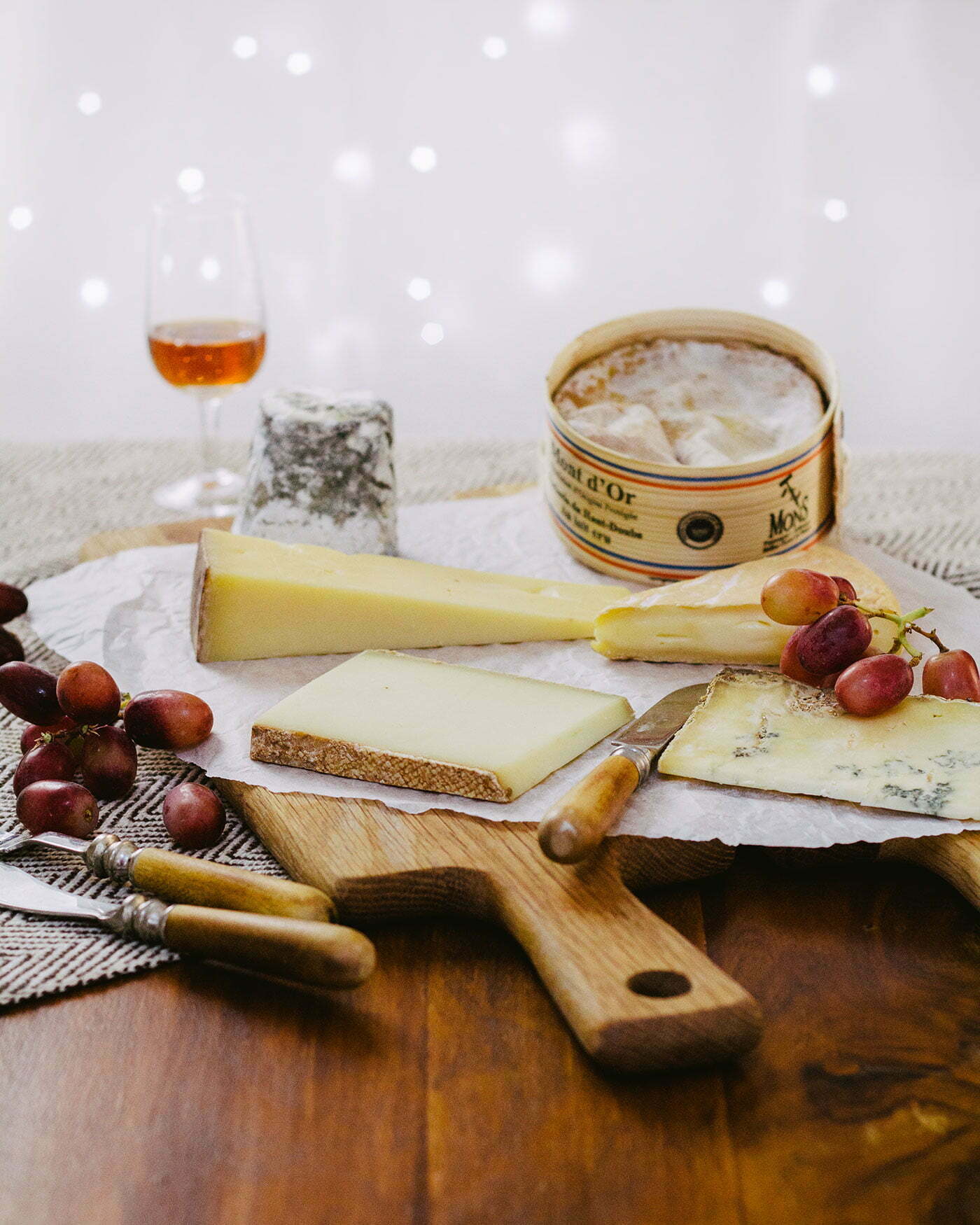 Ham & Friends Festive Cheese Board was created by Food&_ community member: