Recipe
Pasta e Fagioli
Words & Photography by

Valeria Necchio
Unsurprisingly, most of my family tales have food at their core: food permeates our personal stories, and intersects with our collective memories as a group. From all these stories, however, one truth emerges clear and sharp: the women in my family have always been really good cooks, capable of cooking a meal for dozens after spending a whole day in the fields and doing all the housekeeping. They were strong women who could prepare nutritious, filling, if only a tad repetitive dishes out of humble ingredients, and satisfy the appetites of a hungry hard-working crowd. Sadly I didn't get to meet some of them – or eat their food even – but somehow, hearing all about their fantastic stews and soups, I feel like I almost did.
The thread between me and these women is my mum. She has dear memories of her childhood living with her enlarged family in a farm in rural Veneto, especially about the genuine home grown, home cooked food she ate on a daily basis. She talks a lot about her grandmother Maria, her mum's mum, who was the official cook in the house, and a really skilled one. I never met her, but I wish I had the chance to eat some of her food at least once in my life – perhaps in the winter, when temperatures would be more suitable for the hearty cooking she was inclined to. My mum still dreams about the rich and flavoursome Sunday meals she would cook: primi piatti such as risotto with chicken gizzards, or bigoi (thick spaghetti) with rabbit ragù, and secondi with roasted poultry or, when in season, pork cuts.
Maria wasn't known for being timid with condiments, or spare with portions. During the week, when the meal for my family as for any other peasant family in the area consisted mainly of pasta e fagioli (bean and pasta soup) and polenta, Maria could be heard from the early morning making the battuto with slices of cured lardo and parsley. Old knife in hand, perhaps sharpened once in a blue moon by the arrotino, and an even older wood board. Tac tac tac. Until the whole lot of salt-cured lardo had become a cream, and the parsley had mingled with the fat and turned into a bright green paste, ready to be fried in oil and give flavour to some plump boiled borlotti beans with pasta.
Great-grandma Maria was taking care of the cooking so my grandma didn't have to. Yet, after Maria's death, grandma inherited the title of head chef of the house. According to mum, she was a good cook, and all in all she had learnt all the basics – the roasts, the sauces, the pastas – to make the family happy, including pasta e fagioli. Unfortunately no written trace remains of their recipes – no charmingly old hand-written recipe notebook – and grandma is no longer able to pass them down to us. From a point in her life she became more and more forgetful every day. My mum, growing up during the post-war boom, was little interested in cooking and more interested in eating and living her life. She can guess and remember some, but the gestures, the steps that can bring a recipe to life – these are pretty much all lost. Except for one recipe.
Pasta e fagioli was something people made and ate on a daily basis – a familiar dish whose preparation my mum must have assisted to many times in her life. The variations on the basic recipe were pretty straightforward: fresh beans in the summer and early fall, dried the rest of the year; tubetti or broken up bigoli as the 'starch'; some onion or garlic in the parsley and lardo battuto ; and possibly some ribs or bones for the stock, especially after the winter pig butchering.
Fast forward to the present, pasta e fagioli is far from being a daily recurrence in my life, yet it always brings a warming, nostalgic flavour to my table. I love making it with dry beans, flavouring it with the same lardo and parsley mix I was taught to use – even if it sounds very old school, I fear it won't taste the same without it. However, it can easily become vegetarian/vegan by using only olive oil. It is perfect for the cold months, as it is comforting and nourishing without being too heavy. Best of all, it can be made ahead and in big batches and then just reheated – perfect to fit our busy lives and the holiday rush. I must say, it does taste better the second day.
Ingredients
450g (2 cups) dried borlotti beans, soaked overnight
2 tbsp olive oil
A slice (about 50g) of cured lardo
A small bunch of fresh flat parsley, washed and trimmed
1 small golden onion, peeled
2 liters vegetable stock, preferably home made with carrot, onion and celery
70g (2/3 cup) tubetti (short pasta tubes)
Fine grain sea salt and black pepper, to taste
Method
Rinse the beans under cold running water. Transfer into a large pot with plenty of water (at least twice the volume of the beans) and bring to the boil. Cook until tender but still firm, drain and set aside.
Using a sharp chef knife, start mincing the lardo until you get a sort of paste. Chop the parsley very finely and then incorporate it into the creamed lardo. Do the same with the onion. You want to end up with almost a pesto of parsley, lardo and onion.
Bring the stock to the boil and keep it hot over low heat. In a large, separate pot, heat the olive oil, then add the pesto and fry until the lardo has melted and the shallot is translucent. Add 2/3 of the beans, stir to coat the beans with the seasoning. Fry for 2 to 3 minutes. Pour enough stock to cover the beans. Simmer for 15 minutes, or until the beans are very tender and fall apart. Remove from the heat and blend using an immersion blender until you have a smooth mixture.
Place the soup back over medium heat, add the rest of the beans, and when it is boiling add the pasta. Pour in more stock if needed – you want a dense but still 'soupy' texture. Stirring very frequently to avoid the pasta sticking to the bottom. When the pasta is tender, turn off the heat and allow to cool for 5 to 10 minutes. Taste for salt and pepper and season accordingly. Serve with a drizzle of olive oil on top and crusty bread.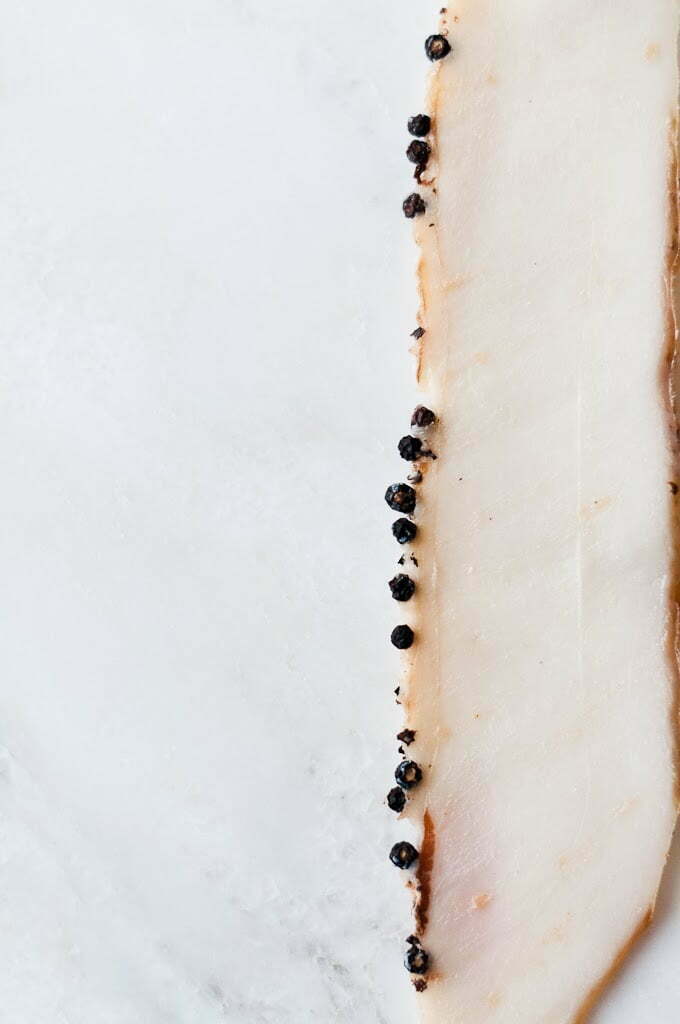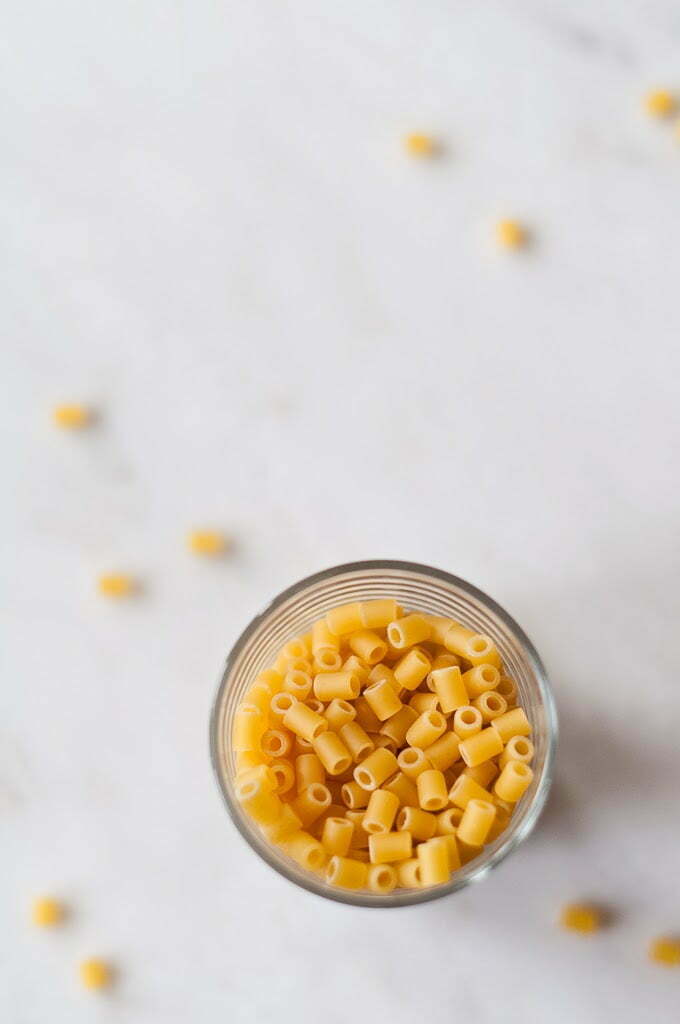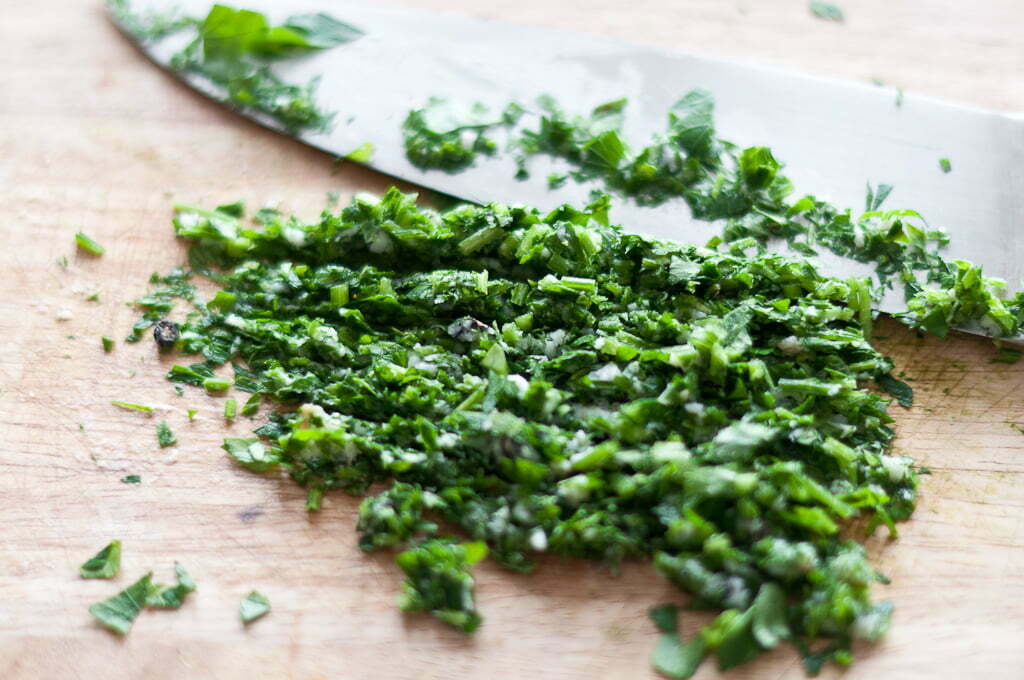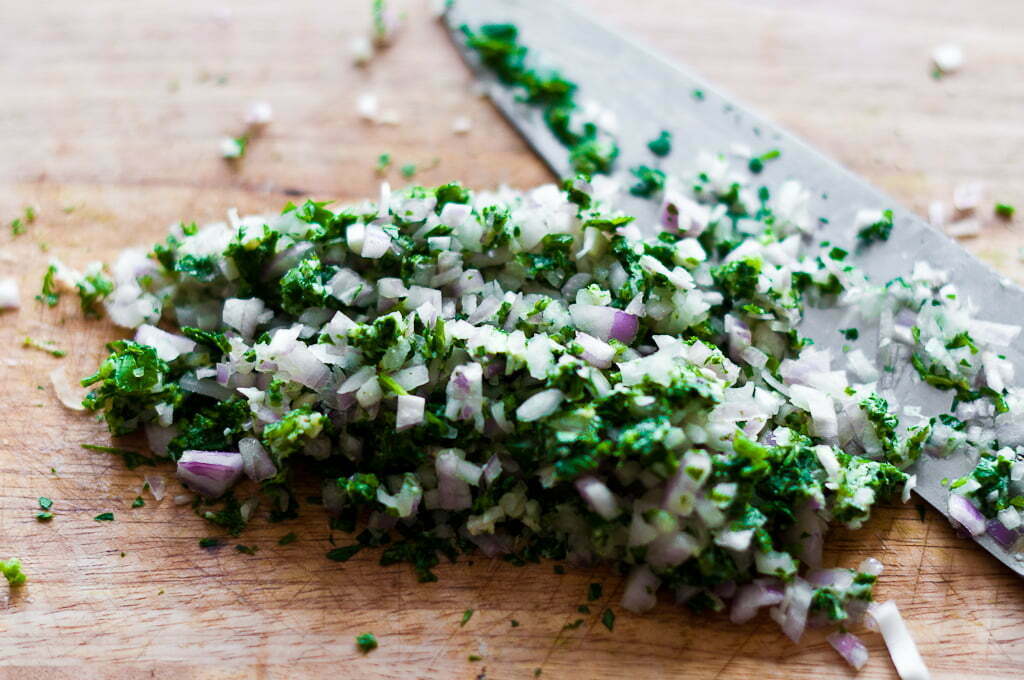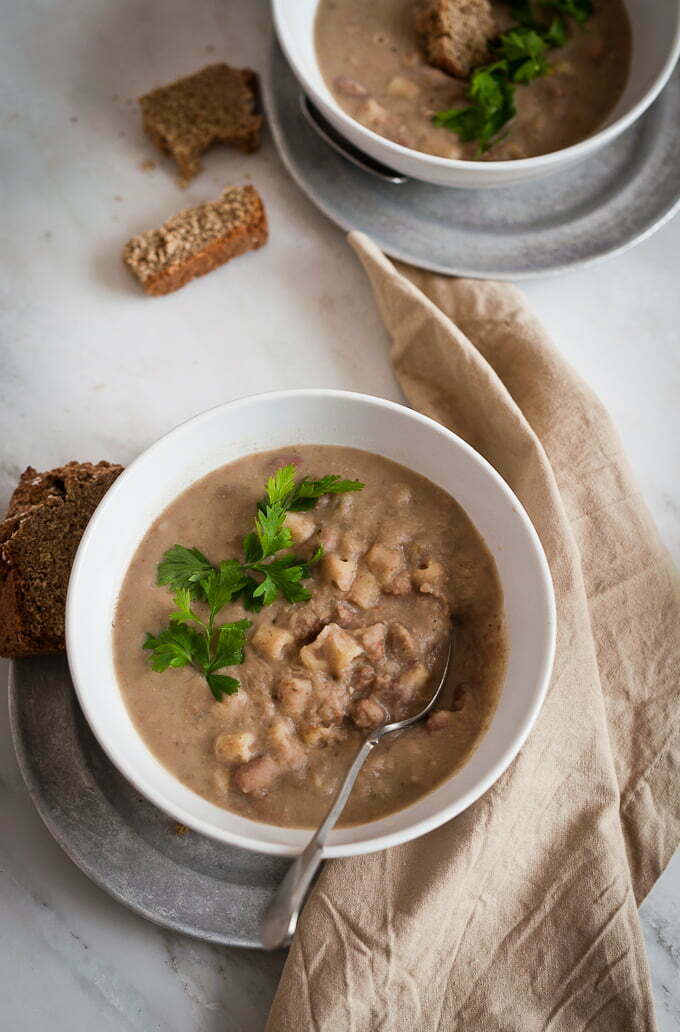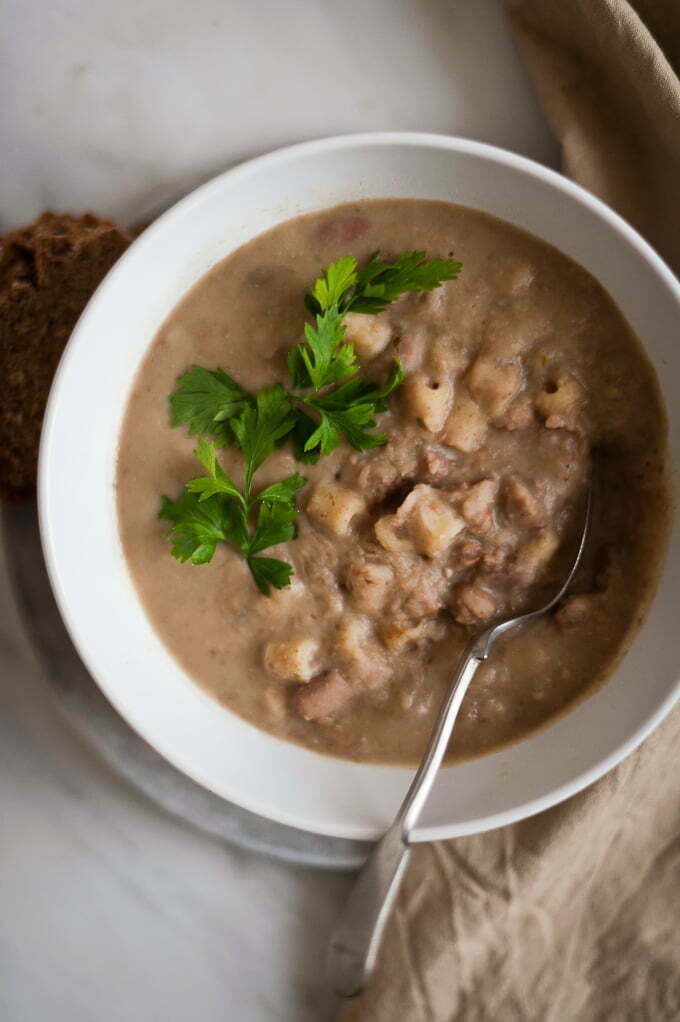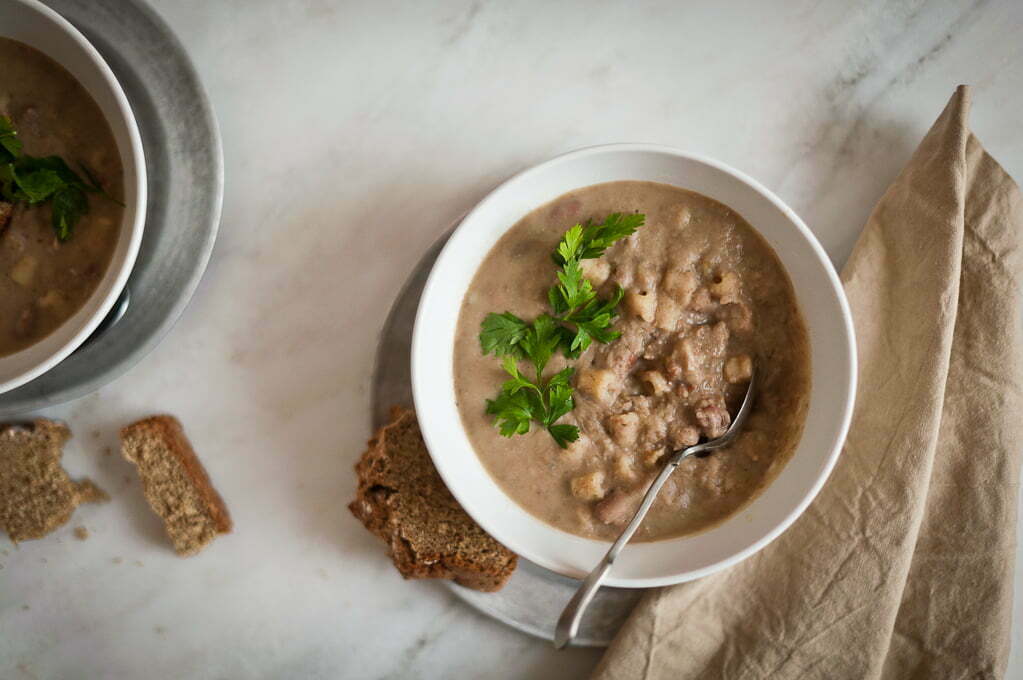 Pasta e Fagioli was created by Food&_ community member: